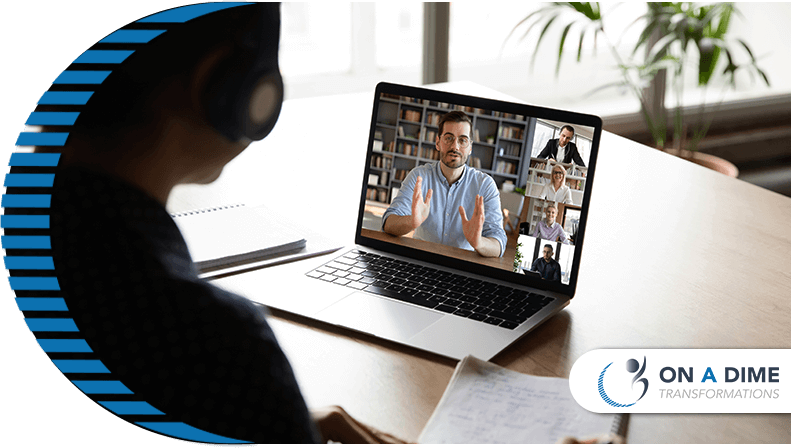 Access to supports is often an obstacle for those moving through the journey to recovery. On A Dime Transformations wants to provide accessible and inclusive training for every person in recovery who longs to find employment that is meaningful and fulfilling. As we build and grow our ability to service recovery communities across Canada, we offer a live, virtual option for those in locations outside of our region.
If your organization is interested in the On A Dime Transformations curriculum to empower those in recovery to discover and achieve meaningful careers, connect with our team to explore your options for accessing our training online from anywhere.
Empowering People In Recovery
The team at On A Dime Transformations has identified a gap in the model of care available to those in recovery. We have worked diligently to design a component of Recovery Capital to better serve our community as members transition into a long-term and sustainable recovery. Our three-phase process is carefully constructed to help participants rediscover their value and create a pathway to employment success. Learn more about our program by clicking below.
What We Do
On A Dime Transformations has created an effective and innovative employment training curriculum specifically for those on a journey of recovery. This program offers opportunities for our clients to have customized content that fits within their own treatment models and is designed for a variety of delivery methods.
Live Virtual Training FAQs
Right now we can facilitate group learning sessions however we are working on a model that will allow participants individually access the course through module learning methods online.
Our ideal sessions are between 8 and 15 participants. We choose these numbers to facilitate the best possible experience for our participants.
The program is 6 weeks with 2 weeks dedicated to each of our three phases:
Hope: Discovering the unrecognized value within
Vision: Discovering the possibilities and opportunities
Action: Creating and implementing a plan for success
Employment Through Self-Discovery
In all of us, there is a person that was "becoming" before addiction took hold. The On A Dime Transformations team is committed to helping people identify intrinsic attributes that may have been dormant through years of addiction. Uncovering these qualities helps us to fully comprehend and understand the unique value each participant has to offer the world. It is our mission to improve long-term recovery outcomes by empowering individuals to rediscover themselves and achieve meaningful careers. Call 1-403-966-9369 now.
Improve Recovery Outcomes With A Purpose Driven Life
Improving Recovery Outcomes By Empowering People Into Meaningful Employment
If your organization is seeking ways to improve long-term recovery outcomes by including an employment readiness component within your existing programming connect with our expert team at On A Dime Transformation.
Call us now at 1-403-966-9369.